Development of SAW (Simple Additive Weighting) Method for Decision Support System of Sembako Price Control
(Case Study of the Office of Agriculture, Fisheries and Forestry, Sleman Regional Government)
Sri Wulandari

Universitas Teknologi Yogyakarta

Adityo Permana Wibowo

Universitas Teknologi Yogyakarta
Keywords:
Decision Support System, SAW Method, Food Price Control.
Abstract
The Supporting System The decision to control basic food prices at the fisheries and forestry service is a system designed to assist relevant agencies in seeing prices of basic necessities which tend to increase at any time. At first the relevant agencies do recap calculations by storing data and still counting manually, so it requires a longer time, with the existence of this system it is expected to be able to help and provide solutions for consideration of decision making in accordance with the right calculations. The decision support method of calculation used is the SAW method that takes the greatest value to be used as a decision-making ranking. In addition, other methods used are data collection methods by observation and interviews to identify problems in developing support systems for basic food price control decisions. Model design is described using data flow diagrams (DAD) and entity relationship diagram (ERD). The system developed is able to record, calculate and provide alternative solutions effectively for relevant agencies. With this system, agencies are expected to be able to process the calculation of basic food prices better, select more accurate decisions, and take more effective alternative solutions.
References
[1] Kusumadewi, Sri, 2003 "Artificial Intelegence (Teknik dan Aplikasinya)", Graha Ilmu, Yogyakarta
[2] Fishburn, P. C.,1967, A Problem-based Selection of Multi-Attribute Decision Making Methods, Blackwell Publisihing, New Jersey
[3] Kusumadewi, Sri., Hartati, S., Harjoko, A., dan Wardoyo, R. 2006 "Fuzzy Multi Attribute Decision Making (FUZZY MADM)", Graha Ilmu, Yogyakarta
[4] Suyanto, 2011, "Artificial Intelegence Searching-Reasonin-PlaningLearning", Informatika, Bandung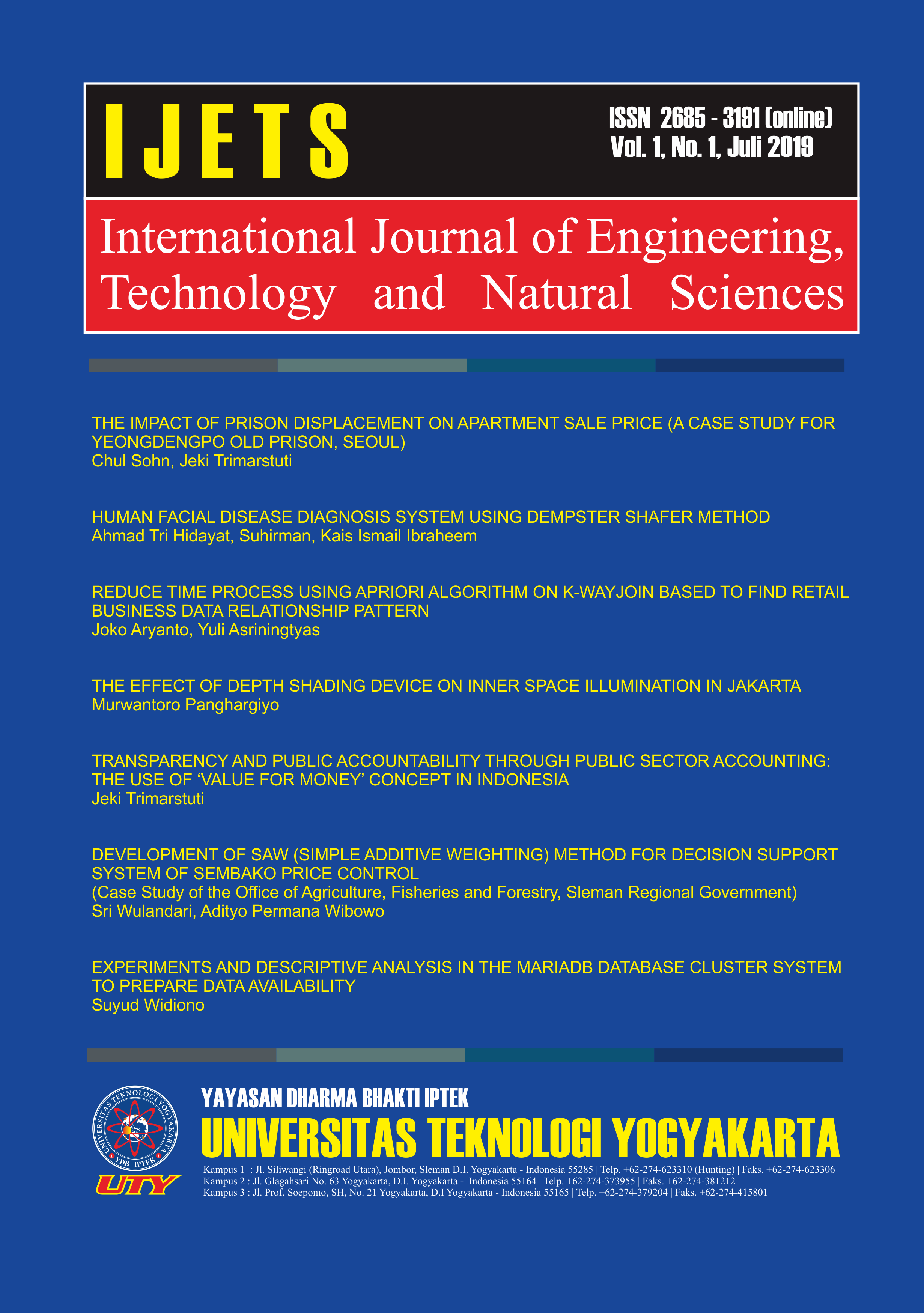 Copyright Notice

The Authors submitting a manuscript do so on the understanding that if accepted for publication, copyright of the article shall be assigned to journal IJETS, University Of Technology Yogyakarta as publisher of the journal, and the author also holds the copyright without restriction.
Copyright encompasses exclusive rights to reproduce and deliver the article in all form and media, including reprints, photographs, microfilms and any other similar reproductions, as well as translations. The reproduction of any part of this journal, its storage in databases and its transmission by any form or media, such as electronic, electrostatic and mechanical copies, photocopies, recordings, magnetic media, etc. , are allowed with a written permission from journal IJETS, University Of Technology Yogyakarta.
Jurnal IJETS Board, University Of Technology Yogyakarta, the Editors and the Advisory International Editorial Board make every effort to ensure that no wrong or misleading data, opinions or statements be published in the journal. In any way, the contents of the articles and advertisements published in the journal IJETS, University Of Technology Yogyakarta are sole and exclusive responsibility of their respective authors and advertisers.