Success Factor Management Analysis of Self-Management System For Building Projects
Jamal

Indonesia

Albani Musyafa

Universitas Islam Indonesia

Faisol AM

Universitas Islam Indonesia

Fitri Nugraheni

Universitas Islam Indonesia
Keywords:
analysis, success factor, self-management, building
Abstract
The requirement of project management in construction is needed to be able to set priority aspects of implementation from the beginning to the end, to make it succeed and happen as a plan. Self-management is one of the managements to the owner and some scope is to universities that have resources qualified as self-management. Success factor analysis of self-management aims to determine the priority success factors and characteristics of buildings that can be used for self-management.  The analytical method used in this research is Analytical Hierarchy Project or AHP.  Based on the results of the study, it was obtained 4 respondents who met the criteria for self-management and 10 factors of success, namely quality with 21.33%, leadership / managerial 16.94%, cost 16.89%, 15.68% customer satisfaction, administration 8%, human resources 7.40%, and the other factors such as time with 4.79%, suppliers 3.24%, labor 3.17%, and place characteristics 1.99%.  The characteristics of buildings can be done independently, namely; having location or place of development that is owned by the community in a certain area, possessing the development that empowers human resources belonging to mass organizations and community groups, and owning a team of consultants and supervisors to improve planning, scheduling, and increased supervision.
References
Aji, Raden Supramana, "Evaluasi Program Rekonstruksi Gedung Sekolah Dengan Swakelola Pasca Gempa Bumi Yogyakrta (Studi kasus: Rekonstruksi Gedung Sekolah Dasar Kabupaten Sleman)". Yogyakarta. Universitas Islam Indonesia. 2017.
Agsarini, Irmia dan I Putu Artama Wiguna. "Pengaruh Faktor Kondisi Proyek terhadap Kinerja Proyek Konstruksi". Surabaya. Prosiding Seminar Nasional Manajemen Teknologi XXII. 2015.
Ashad, Hanafi, Abdul Karim hadi dan Oskar Harris, "Pengaruh Kinerja Kepemimpinan Manager Proyek terhadap Keberhasilan Pekerjaan Konstruksi pada PT. Nindya Karya (PERSERO) Wilayah V", FLY OVER vol 4, hal 99-110, 2020.
Astina, Dhian C, "Analisis Faktor-Faktor Penyebab Keterlambatan Pelaksanaan Pekerjaan Proyek Konstruksi di Kebupaten Tabanan", Denpasar, Universitas Udayana, Jurnal Ilmiah Elektronik Infastruktur Hal 1-6, 2016.
Ervianto, W I, "Manajemen Proyek Konstruksi", Yogyakarta, ANDI, 2005.
Farida, Nida, "Biaya Berdasarkan Permen Pu 28/Prt/M/2016 Dan Rencana Anggaran Pelaksanaan Pada Pekerjaan Struktur (Comparison Analysis Of Budget Plan According To Permen Pu 28/Prt/M/2016 And Implementation Budget Plan On Structural Work) (Studi Kasus Proyek Hotel Bhayangkara, Yogyakarta)".,Yogyakarta, Universitas Islam Indonesia, 2018.
Fitriana, Nur Cholidah dan Budi Santosa, "Analisis Faktor-Faktor Pemilihan Suplier Material pada Jasa Usaha Konstruksi dengan Metode Fuzzy AHP", Jurnal Fondasi, Vol 9, No. 1, hal 1-11, 2020.
Gunarso, dan Kukuh Kurniawan D. S, "Analisis Resiko Tahap Engineering Design Pada Pembiayaan Pekerjaan Konstruksi Proyek EPC", Jurnal Teknik Sipil dan Arsitektur, Vol. 22, No. 26. DOI: https://doi.org/10.36728/jtsa.v22i26.682, 2018.
Husen, Abrar, "Manajemen Proyek", Yogyakarta, ANDI, 2011.
Jartongat., "Analisis Sistem Swakelola, Bas-borong, Dan Kontrak Total Studi Kasus pelaksanaan Proyek Perumahan Di Yogyakarta", Yogyakarta, Universitas Islam Indonesia, 2015.
Kurniawan, Deddy, "Identifikasi Faktor Resiko Yang Mempengaruhi Kinerja Waktu Pelaksanaan Konstruksi Gedung Secara Swakelola Studi Kasus : Pembangunan RKB Sekolah SD Dan SMP Kota Bukittnggi". Vol, 1, No 2, DOI: https://doi.org/10.31869/rtj.v1i2.762, 2018.
Lestari, Indah.S dan Adi Nasri, "Analisis Efisiensi Sistem Manajemen Konstrksi Swakelola Dan Sistem Manajemen Konstruksi Profesional Pada Pekerjaan Beton (Studi Komparasi Pada Proyek Pembangunan Gedung Kampus D-3 Ekonomi UII Yogyakarta dan Gedung Paviliun Rawat Inap RSUDSalatiga)",Yogyakrta. Universitas Islam Indonesia, 2004.
Madeppungeng, Andi, "Evaluasi Kepuasan Pelanggan terhadap Kinerja Manajemen Proyek Kontraktor Besar (Studi Kasus : Proyek Pembangunan Bendunan Karian di Kabupaten Lebak, Banten)", Jurnal Kontruksia Vol, 10 No. 1, hal 9-22, 2018.
Nurihsan, A, dan Subandar' "Studi Tentang Manajemen Swakelola Sebagai Alternatif Dalam Pembangunan Proyek Konstruksi", Yogyakarta, Universitas Islam Indonesia, 2002.
Oktovyanti, Nunky., "Perbandingan Sistem Swakelola Oleh Masyarakat Dan Sistem Kontrak Pada Penanganan Pekerjaan Prasarana Bangunan Komunal Pada Permukiman Di Kota Batu", Malang. Universitas Brawijaya, Jurnal Rekayasa Sipil / Volume 8, No, 2, ISSN 19785658, Halaman 95 – 103, 2014.
Peraturan Presiden Republik Indonesia Nomor 16 Tahun 2018, "Tentang Pengadaan Barang/Jasa Pemerintah"
Peraturan LKPP no 8 Tahun 2018, "Pedoman Swakelola".
Rajamuddin, "Sistem Pendukung Keputusan Penilaian Kinerja untuk Memilih Dosen Berprestasi Menggunakan Metode AHP". Progress, Vol. 7, No. 2, HAL 71-78, 2015.
Saaty, T L, "Fundamentals of Decision Making and Priority Theory With The Analytic Hierarchy Process", USA, University Pittsburgh, 1995.
Tjiptono, Fandy dan Gregorius Chandra, "Service, Quality & Satisfaction", Yogyakarta, ANDI, 2005
Tjiptono, Fandy dan Anastasia Diana, "Total Quality Management (TQM"), Yogyakarta, Andi Offset, 1998.
Undang-Undang Republik Indonesia Nomor 2 Tahun 2017, "Tentang Jasa Konstruk".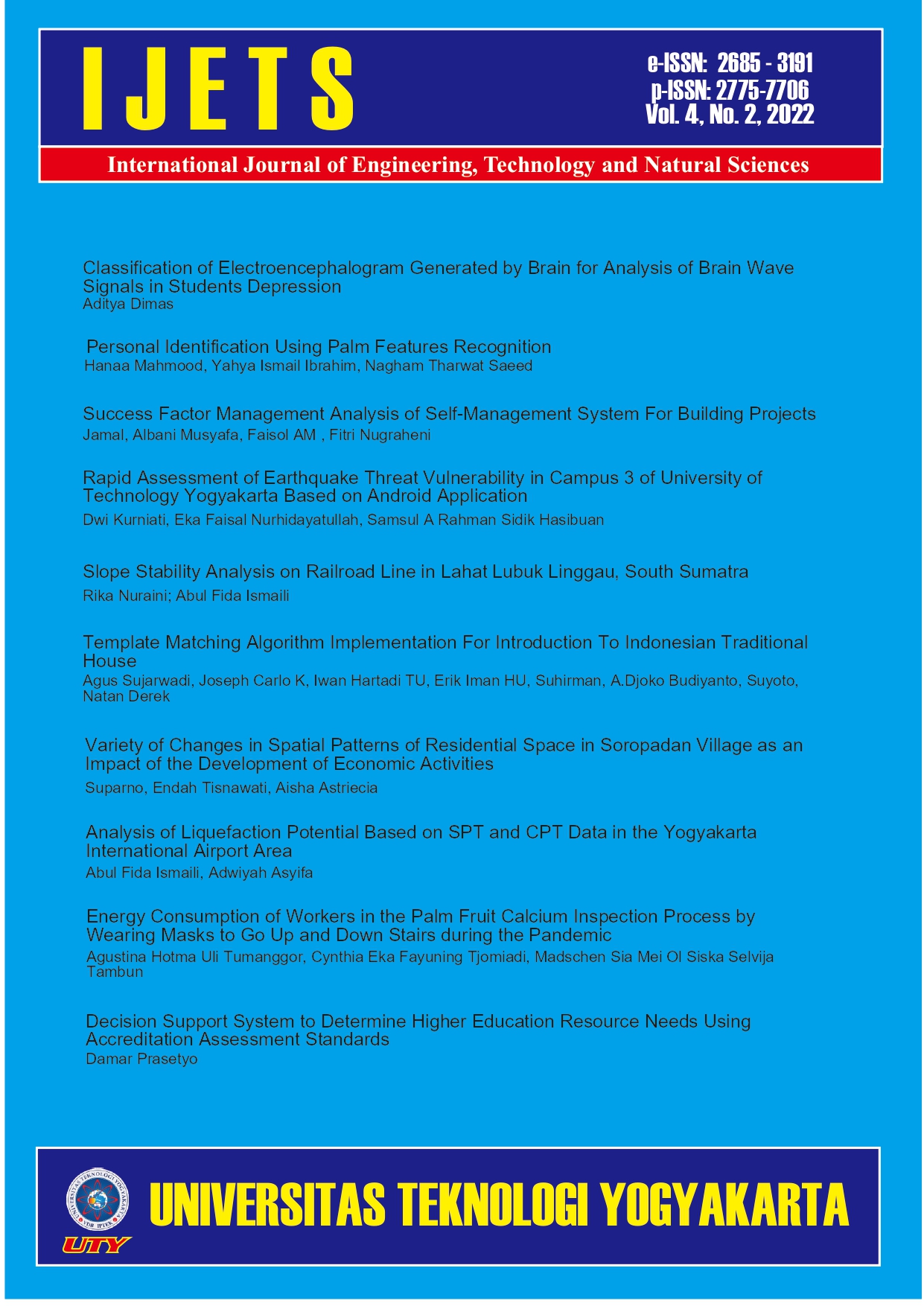 How to Cite
Jamal, Albani Musyafa, Faisol AM, & Fitri Nugraheni. (2022). Success Factor Management Analysis of Self-Management System For Building Projects. International Journal of Engineering Technology and Natural Sciences, 4(2), 111 - 118. https://doi.org/10.46923/ijets.v4i2.176
Copyright (c) 2022 jamal jamal
This work is licensed under a Creative Commons Attribution-NonCommercial-NoDerivatives 4.0 International License.
Copyright Notice

The Authors submitting a manuscript do so on the understanding that if accepted for publication, copyright of the article shall be assigned to journal IJETS, University Of Technology Yogyakarta as publisher of the journal, and the author also holds the copyright without restriction.
Copyright encompasses exclusive rights to reproduce and deliver the article in all form and media, including reprints, photographs, microfilms and any other similar reproductions, as well as translations. The reproduction of any part of this journal, its storage in databases and its transmission by any form or media, such as electronic, electrostatic and mechanical copies, photocopies, recordings, magnetic media, etc. , are allowed with a written permission from journal IJETS, University Of Technology Yogyakarta.
Jurnal IJETS Board, University Of Technology Yogyakarta, the Editors and the Advisory International Editorial Board make every effort to ensure that no wrong or misleading data, opinions or statements be published in the journal. In any way, the contents of the articles and advertisements published in the journal IJETS, University Of Technology Yogyakarta are sole and exclusive responsibility of their respective authors and advertisers.