Rapid Assessment of Earthquake Threat Vulnerability in Campus 3 of University of Technology Yogyakarta Based on Android Application
Dwi Kurniati

Universitas Teknologi Yogyakarta

Eka Faisal Nurhidayatullah

Universitas Teknologi Yogyakarta

Samsul A Rahman Sidik Hasibuan

Universitas Medan Raya
Keywords:
Android, App, Building, Campus, Vulnerability
Abstract
The province of D.I.Yogyakarta is crossed by the Indo-Australian Plate which is one of the three world plates. The impact that occurs when an earthquake happens is the damage to buildings not only simple buildings but also multi-story buildings, such as School Buildings and Educational Facilities. The Campus 3 of University of Technology Yogyakarta is located at Jl. Prof. Dr. Soepomo, S.H. No.21, Muja Muju, the sub district of Umbul Harjo, Yogyakarta. The purpose of this study is to determine the results of the evaluation using the RVS method on a form that is filled out manually and by an application using ArGis. The method used in this research is FEMA 154-2015 which is adjusted to the regulations in Indonesia, namely SNI 1726-2019, and the results are analyzed quantitatively. Based on the checking of vulnerability of the campus building with the RVS High Seismicity form, the campus 3 building is of the type of reinforced concrete frame and functioning as a school. The results obtained show that the average of two buildings in the Campus 3 of University of Technology Yogyakarta is 2.3, and the RVS stops at level 1. Both conditions confirm that the two buildings have a risk that is not dangerous. Nevertheless, there should be a further supervision.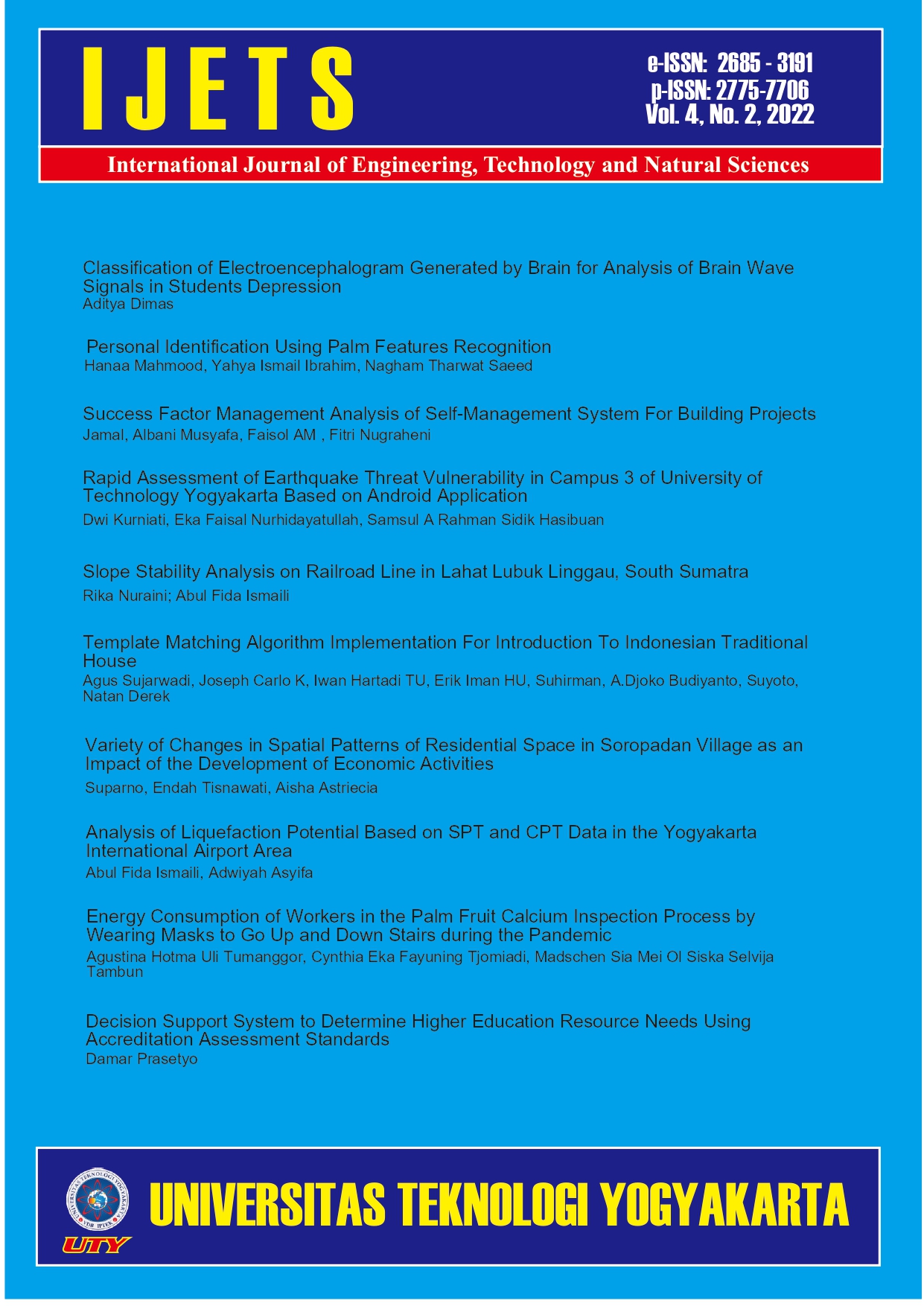 How to Cite
Kurniati, D., Eka Faisal Nurhidayatullah, & Samsul A Rahman Sidik Hasibuan. (2022). Rapid Assessment of Earthquake Threat Vulnerability in Campus 3 of University of Technology Yogyakarta Based on Android Application. International Journal of Engineering Technology and Natural Sciences, 4(2), 119 - 127. https://doi.org/10.46923/ijets.v4i2.178
Copyright (c) 2022 Dwi Kurniati
This work is licensed under a Creative Commons Attribution-NonCommercial-NoDerivatives 4.0 International License.
Copyright Notice

The Authors submitting a manuscript do so on the understanding that if accepted for publication, copyright of the article shall be assigned to journal IJETS, University Of Technology Yogyakarta as publisher of the journal, and the author also holds the copyright without restriction.
Copyright encompasses exclusive rights to reproduce and deliver the article in all form and media, including reprints, photographs, microfilms and any other similar reproductions, as well as translations. The reproduction of any part of this journal, its storage in databases and its transmission by any form or media, such as electronic, electrostatic and mechanical copies, photocopies, recordings, magnetic media, etc. , are allowed with a written permission from journal IJETS, University Of Technology Yogyakarta.
Jurnal IJETS Board, University Of Technology Yogyakarta, the Editors and the Advisory International Editorial Board make every effort to ensure that no wrong or misleading data, opinions or statements be published in the journal. In any way, the contents of the articles and advertisements published in the journal IJETS, University Of Technology Yogyakarta are sole and exclusive responsibility of their respective authors and advertisers.