Variety of Changes in Spatial Patterns of Residential Space in Soropadan Village as an Impact of the Development of Economic Activities
Suparno

Universitas Teknologi Yogyakarta

Endah Tisnawati

Universitas Teknologi Yogyakarta

Aisha Astriecia

Universitas Teknologi Yogyakarta
Keywords:
spatial pattern, housing, boarding house, economy
Abstract
Reduced open land, traffic jams on the village's main road, disruption of the safety and comfort of the living environment are only a few effects that can result from the conversion of homes into student dormitories in the form of boarding houses. This also takes place in open residential neighborhoods outside of Yogyakarta, specifically in Soropadan Village, Condongcatur Village, Depok District, and Sleman. Descriptive qualitative research methodology is employed in this study. The decision is taken taking into account the occurrences that are seen in the field. Direct field observations were used to gather the primary data selection technique, which was subsequently used to collect data utilizing qualitative data techniques. In order to understand the numerous changes in the spatial pattern of residential housings discovered in the boarding house type student dormitory in Soropadan Village as a result of the development of economic activities, this study attempts to determine the tendency of the spatial pattern of settlements. The study's findings include the similarity of changes to the spatial layout of residences into boarding-type student dormitories with a linear layout, the spatial arrangement of boarding rooms and shared rooms forming a centralized layout with the shared room serving as the center of activity in student boarding houses, and the propensity to add boarding rooms. The location of the service area, including restrooms, laundry facilities, and kitchens, is always at the rear of the building, immediately before the road. Economic development, environmental changes, population increase, and the creation of local infrastructure are all reasons that can cause a home's usage to change from a residential to a dorm-style boarding house for students.
References
Lang, Jon. 1987. Creating Architectural Theory. Van Nostrand Reinhold Company Inc. Melbourne. Australia.
Rapopport, Amos. 1979. Cultural Origins of Architecture dalam James C. Snyder dan Anthony J. Catanese (ed.), Introduction to Architecture. New York: McGraw-Hill Book Company.
Rapoport, Amos. 1969. House Form and Culture. Prentice-Hall INC, London.
Bintarto, R. 1983. Interaksi Desa Kota dan Permasalahannya. Jakarta : Ghalia Indonesia.
Kadt, Emanuel, 1979. Tourism: Pasport to Development? Oxford University Press.
Habraken, N.J., 1985. The Appereance of The Form, Awater Press Cambridge, Mass.
Habraken, N.J., 1976. The Systemic Design of Support. Lab. Of Arch and Planning at MIT, Cambridge, Mass.
Schultz, Christian-Norberg. 1988. Arhitecture: Meaning and Place. New York: Rizolli.
Habraken, N.J., 1982. Transformation of The Site, Awater Press Cambridge, Mass.
Marsoyo, A., 1992. Place-place and Socio Economic Analysis of Home-based enterprised in Yogyakarta, Indonesia. AIT, Thailand.
Indrosaptono, Djoko, 1994. Hubungan Lay out dan Koefisien Dasar Bangunan di Jalan Pandanaran Semarang dengan kegiatan ekonomi. Tesis S2 Jurusan Teknik Arsitektur UGM, Yogyakarta.
Tisnawati, Endah. 2012. Spatial Settlement Changes in Kampung Karangmalang Yogyakarta, Indonesia. Proceedings 1st Biennale International Conference on Indonesian Architecture and Planning. Yogyakarta, 9-11 July 2012.
Bintarto R, 1977. Pola Kota Dan Permasalahan Komprehensif: Pengantar Dan Penjelasan, Gadjah Mada Press, Yogyakarta.
Arikunto, S. 2013.Prosedur Penelitian Suatu Pendekatan Praktik. Edisi Revisi. Jakarta: PT. Rineka Cipta.
Sukmadinata, 2006. Metode Penelitian Kualitatif, Bandung: Graha Aksara.
Moleong, Lexy. (2005:4). Metodologi Penelitian Kualitatif. Bandung: PT Remaja Rosdakarya.
Muhadjir, Noeng, 1993. Metode Peneliitian Kualitatif, Rake Sarasin, Yogyakarta.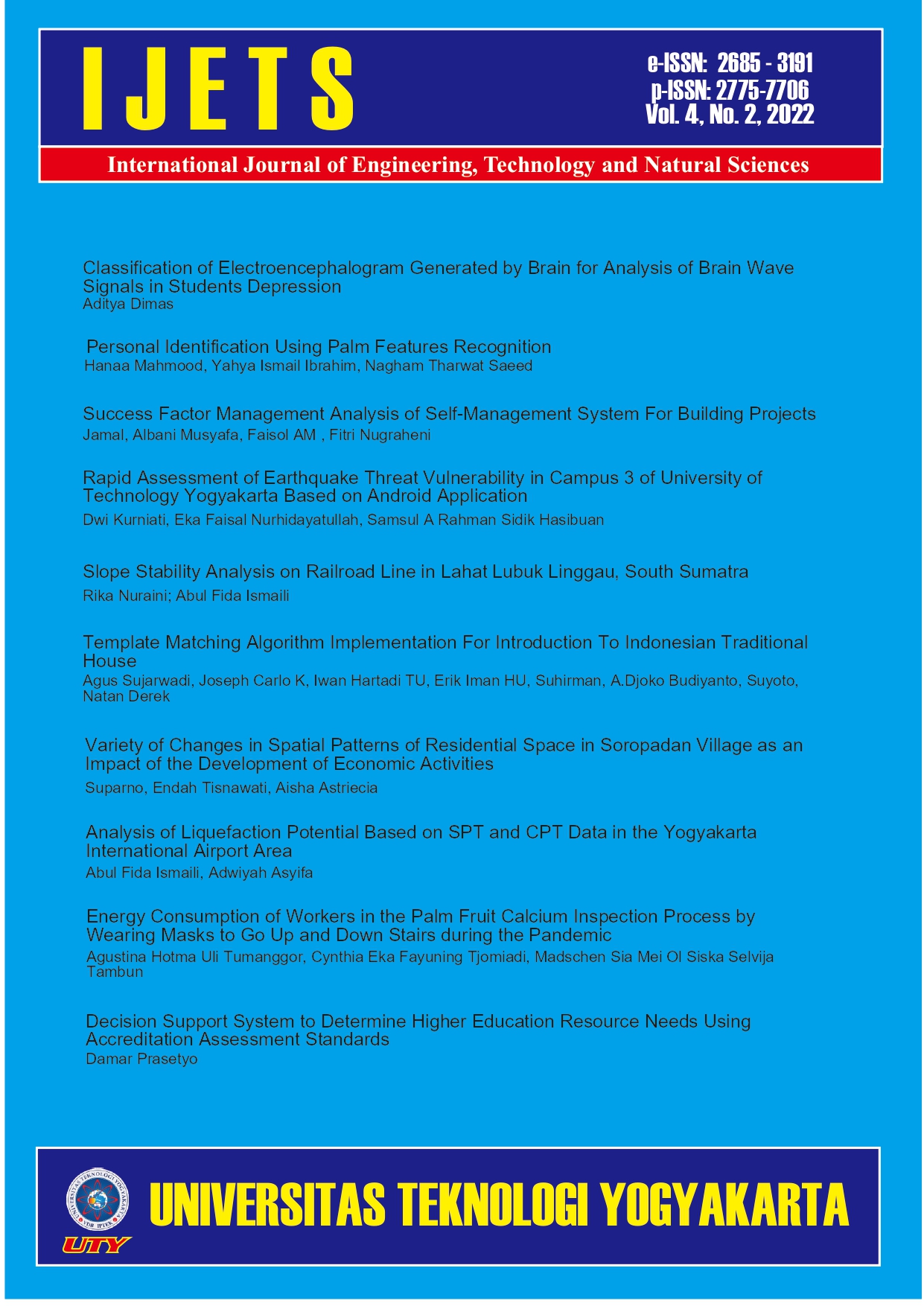 How to Cite
Suparno, Endah Tisnawati, & Aisha Astriecia. (2022). Variety of Changes in Spatial Patterns of Residential Space in Soropadan Village as an Impact of the Development of Economic Activities. International Journal of Engineering Technology and Natural Sciences, 4(2), 149 - 157. https://doi.org/10.46923/ijets.v4i2.183
Copyright (c) 2022 Suparno
This work is licensed under a Creative Commons Attribution-NonCommercial-NoDerivatives 4.0 International License.
Copyright Notice

The Authors submitting a manuscript do so on the understanding that if accepted for publication, copyright of the article shall be assigned to journal IJETS, University Of Technology Yogyakarta as publisher of the journal, and the author also holds the copyright without restriction.
Copyright encompasses exclusive rights to reproduce and deliver the article in all form and media, including reprints, photographs, microfilms and any other similar reproductions, as well as translations. The reproduction of any part of this journal, its storage in databases and its transmission by any form or media, such as electronic, electrostatic and mechanical copies, photocopies, recordings, magnetic media, etc. , are allowed with a written permission from journal IJETS, University Of Technology Yogyakarta.
Jurnal IJETS Board, University Of Technology Yogyakarta, the Editors and the Advisory International Editorial Board make every effort to ensure that no wrong or misleading data, opinions or statements be published in the journal. In any way, the contents of the articles and advertisements published in the journal IJETS, University Of Technology Yogyakarta are sole and exclusive responsibility of their respective authors and advertisers.