The Value Chain Analysis in The Dried Mackerel Meatball Processing Industry
Syamsudin

Serang Raya University, Banten, Indonesia

Gerry Anugrah

Serang Raya University, Banten, Indonesia

Heru Winarno

Serang Raya University, Banten, Indonesia
Keywords:
Activity, Competitive Advantage, Value
Abstract
In facing the level of trade competition, every industry is required to be able to have high competitiveness in order to remain superior, this is no exception on a regional, national and even local industrial scale. PD. Karya Cipta Mandiri is a food processing industry with dried mackerel fish balls as a product. The existence of uncertainty in the company's production that comes from a lack of supply causes a decline in sales and makes the company suffer losses, this is because the company only has relationships with suppliers in only one province, namely Banten. The purpose of this study is to make an in-depth analysis of how the food processing industry for mackerel meatball products manages its activities in its corporate value chain. This is important because through value chain analysis, activities that have and have not added value to a company's competitive advantage can be identified. The analysis used includes analysis of internal conditions carried out in two ways, Resource Analysis and Capability Analysis. The next step is to assess the value chain analysis of the five main activities and four supporting activities. The research results identified two resources and two potential strength capabilities that can be used to help companies determine competitive advantage strategies, while it is known that five strategically relevant potential disadvantages have been identified to become sources of long-term competitive advantage strategies in companies, and it is explained that maintaining ties that can generate profits from the company with suppliers is essential for the company
References
Antika., et al. (2019). Analisis rantai nilai komoditas ikan kurisi (Nemipterus japonicus) ekspor di PT. Sumber Samudera Indonesia Kota Semarang. Journal of Fisheries Resources Utilization Manaement and Technology. 8(4), 33-47.
Santoso, H. E. (2017). Kebijakan Bauran Promosi Obat Komix pada PT. Enseval Putera MegaTrading di Pontianak. BIS-MA (Bisnis-Manajemen), 1(10), 2103-2116.
Marisa., et al. (2017). Analisis Strategi Rantai Nilai (Value Chain) Untuk Keunggulan Kompetitif Melalui Pendekatan Manajemen Biaya Pada Industri Pengolahan Ikan. Journal of Animal Science and Agronomy Panca Budi, 2(2), 1-11.
Baihaqi., et al. (2014). Analisis Rantai Nilai Dan Nilai Tambah Kakao Petani Di Kecamatan Paya Bakong Dan Geurudong Pase Kabupaten Aceh Utara. Jurnal Agrisep. 15(2), 28-35..
Irawan, D. (2020). Peningkatan Daya Saing Usaha Micro Kecil dan Menengah Melalui Jaringan Usaha. Jurnal Ilmu Manajemen. 11(2), 103-116.
Khoirunnisa, A. (2020). ANALISIS PENERAPAN STRATEGI GENERIK PORTER DALAM MENINGKATKAN DAYA SAING PERUSAHAAN (Studi Kasus Bisnis Kuliner Sehat "Naturicha Healthy Food and Drink"). Jurnal Manajemen Pendidikan dan Ilmu Sosisal. 1(2), 274-291.
Yeshua, S. J & Rocky, T. A. (2022). Perencanaan Strategis Sistem Informasi dengan Menggunakan Metode Ward and Peppard pada Swalayan. Jurnal Sistem Komputer dan Informatika (JSON), 3(3), 289-296.
Suseno., et al. (2020). Analisis Value Chain Management pada Usaha Mikro Kecil dan Menengah di Indonesia. Go-Integratif : Jurnal TeknikSistem dan Industri, 1(1), 24-33.
Nur, R. A., et al. (2017). Rantai Nilai Pada Budidaya Kolam Ikan Air Tawar di Kota Bogor. Jurnal Aplikasi Bisnis dan Manajemen, 3(3), 477-485.
Ali, A. H. (2016). Membangun Keunggulan Bersaing Koperasi Yang Berkelanjutan Melalui Penciptaan Nilai. Prosiding Seminar Nasional INDOCOMPAC, 236-252.
Asfira, M. H., et al. (2014). Analisis Rantai Nilai agroindustri Susu Bubuk Kedelai (Studi Kasus Industri Sumber Gizi Nabati dan Melilea di Kota Pekanbaru). Journal SAGU, 13(1), 29-32.
Martha, Kesuma. Yogi (2019). ANALISIS RANTAI NILAI ( VALUE CHAIN ANALYSIS ) BANK MUAMALAT UNTUK PENINGKATAN KINERJA. AL- MISBAH, 1(2), 150-159.
Gusti, Lanang. P. T. I. (2020). Analisis Financial Dan Determinasi Harga Pada Rantai Nilai Tomat Di Kecamatan Kayangan Kabupaten Lombok Utara. Jurnal Agrimansion, 20(2), 67-82.
Yuniarti, Evi. (2014). The Value chain Analysis at rattan Industry Cluster in south Lampung Analisis Value Chain pada Kluster Industri Rotan di Lampung Selatan. Jurnal Ilmiah ESAI, 8(2),116-128.
Suriyanti. (2021). ANALISIS RANTAI NILAI ( VALUE CHAIN ANALYSIS ) BADAN PENGELOLA KEUANGAN HAJI ( BPKH ) DALAM PENINGKATAN KINERJA, AL-MISBAH, 2(1), 1-6.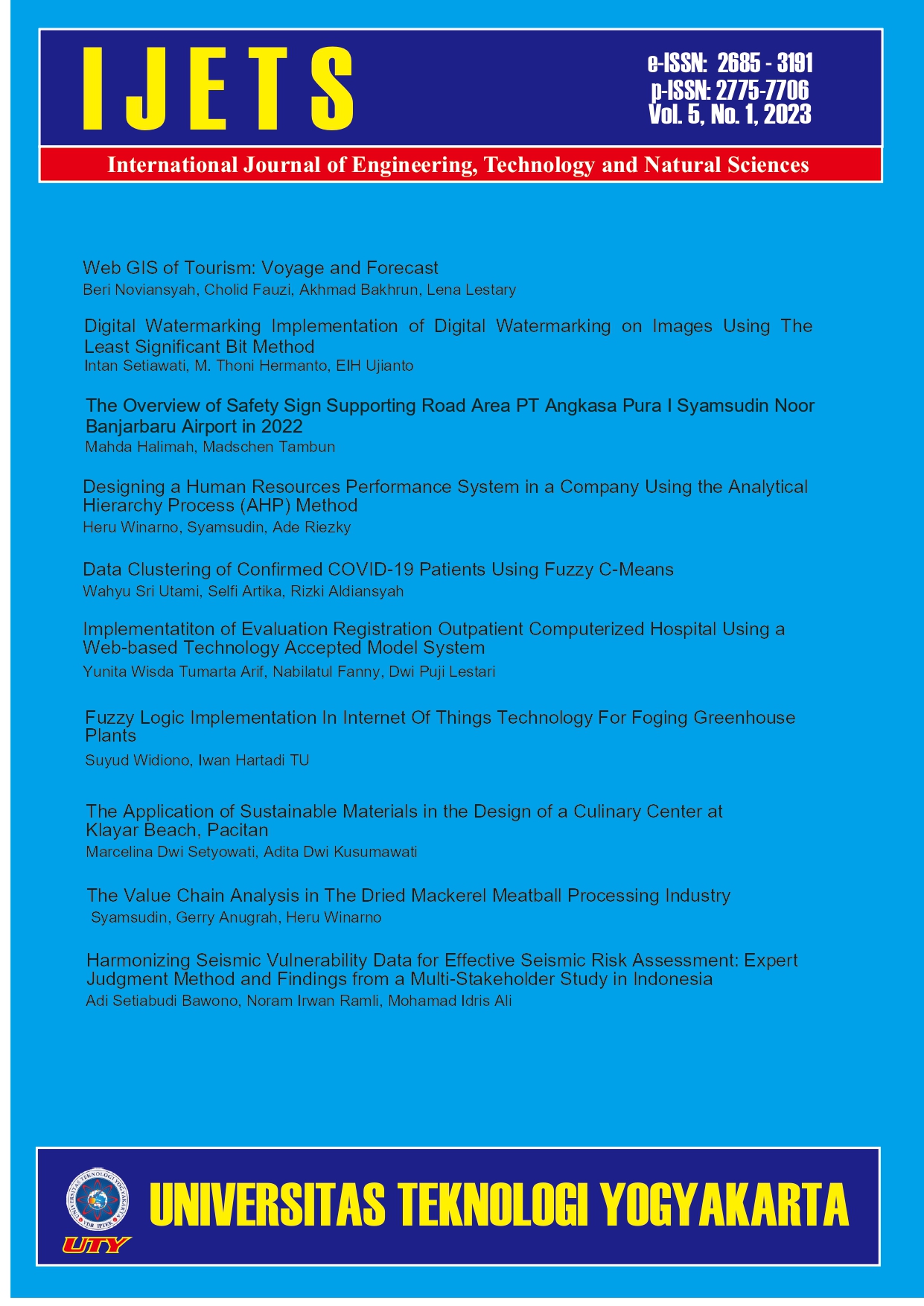 How to Cite
Syamsudin, Anugrah, G., & Winarno, H. (2023). The Value Chain Analysis in The Dried Mackerel Meatball Processing Industry. International Journal of Engineering Technology and Natural Sciences, 5(1), 78 - 88. https://doi.org/10.46923/ijets.v5i1.216
Copyright (c) 2023 Wildan Syahidillah
This work is licensed under a Creative Commons Attribution-NonCommercial-NoDerivatives 4.0 International License.
Copyright Notice

The Authors submitting a manuscript do so on the understanding that if accepted for publication, copyright of the article shall be assigned to journal IJETS, University Of Technology Yogyakarta as publisher of the journal, and the author also holds the copyright without restriction.
Copyright encompasses exclusive rights to reproduce and deliver the article in all form and media, including reprints, photographs, microfilms and any other similar reproductions, as well as translations. The reproduction of any part of this journal, its storage in databases and its transmission by any form or media, such as electronic, electrostatic and mechanical copies, photocopies, recordings, magnetic media, etc. , are allowed with a written permission from journal IJETS, University Of Technology Yogyakarta.
Jurnal IJETS Board, University Of Technology Yogyakarta, the Editors and the Advisory International Editorial Board make every effort to ensure that no wrong or misleading data, opinions or statements be published in the journal. In any way, the contents of the articles and advertisements published in the journal IJETS, University Of Technology Yogyakarta are sole and exclusive responsibility of their respective authors and advertisers.